Rubbing Oil Over Big Booty
Rubbing Oil Over Big Booty by Harley Dean, Johnny Love from Brown Bunnies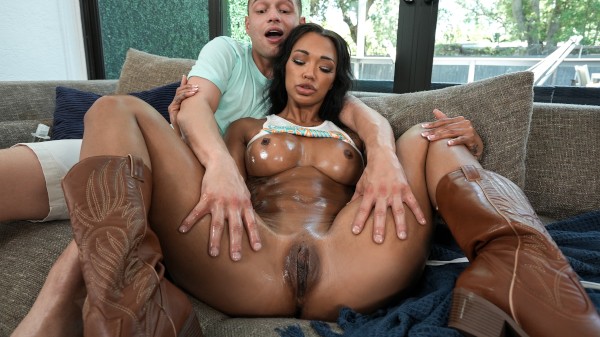 Johnny is really hungry, he wants some eggs but he has no oil to cook them. He goes over Harley's house to see if she has any. He knocks on her door but she wont answer. He knows shes home, he sees her car parked outside.
Thing is, she is busy rubbing her clit and doesn't want anyone to interupt her. Johnny's hunger knows no bounds, he keeps on knocking. Eventually, Harley comes to the door just to shut it back down on Johnny's face. Again, he insists and keeps knocking on the door.
She comes in and is about to give him the bottle of oil only to reconsider it and brings him in to rub oil all over her big and perfect ass. He begins to rub it and makes his way into her wet pussy. After alittle session of oiling her up, she goes right down on his dick and gives him the blowjob of a lifetime. Johnny wastes no time and starts fucking her like there's no tommorow. She jumps on his dick and makes her big ass bounce on his big dick. All leading to Johnny shooting his load all over her pretty face.
Report reason
Thanks! We got your report.