she always cums so hard on it
she always cums so hard on it by Stacy Bloom from bang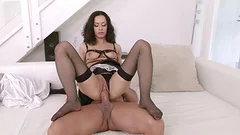 Stacy Bloom only has one client and he's ultra rich. He's not really a sugar daddy since she is his French Maid but he treats her so good both financially and sexually. Stacy is free to date who she wants but no on fucks her as good or has as big of a cock as he does.
Stacy Bloom solo tiene un cliente y es ultra rico. Él no es realmente un sugar daddy ya que ella es su criada francesa, pero la trata muy bien tanto financiera como sexualmente. Stacy es libre de salir con quien quiera, pero nadie la folla tan bien o tiene una polla tan grande como él.
Report reason
Thanks! We got your report.